Frank Williams (left); Williams FW10 (center); Patrick Head (right)




Shaping up to be one of the strangest seasons in modern Formula 1, every race in the 2012 season so far has handed a victory to a different driver and a different team. In fact, the inconsistent performance and results from one venue to the next have been so mind boggling, interviews with even the most experienced of drivers and engineers from top tier teams could only provide us with a tepid, "I don't know," "we will see," "It's difficult to say," or "Hopefully we can gain performance from our upcoming upgrades."
Given the nature of the season so far, I prophesied
that a victory for Williams wouldn't be out of the question. All it takes is a little havoc -- a wet race, a safety car, anything unforeseen. But when young Pastor Maldonado finally provided Williams its first Grand Prix victory since Brazil in 2004, what was most surprising of all was to see the team bring it all together so soon and with such authority -- leading from pole. Adding some romance to Williams' achievement, the victory was also regarded as a belated birthday present for Sir Frank Williams as he celebrated his 70th birthday not too long ago. Sadly, a bizarre garage fire would disrupt WilliamsF1's moment of glory only 90 minutes after Maldonado clinched the race win.
Pastor Maldonado earns first WilliamsF1 victory since 2004
In total, Williams F1 competed in a total of 577 Grands Prix, taken 7 Driver's Championships, 9 Constructor's, 114 race wins, and started the race from pole 127 times. Not bad, considering Eddie Jordan called Williams a minnow team.
While Eddie Jordan's remark might seem like a dig at Williams, it isn't completely untrue. In fact, Williams' reputation as an underdog is one of the traits that made the team so appealing.
Unlike Enzo Ferrari or Bruce McLaren, who were heavily involved at Alfa Romeo and Cooper, respectively, before establishing their own teams, Frank Williams' inroad to Formula 1 was more of a gamble. Before Frank made a career out of motorsports, one of his earlier jobs was as a traveling grocery salesman, a job he used to fund his passion for driving in Formula 3.
By 1966, Frank Williams realized the peak of his driving talents and made the shrewd choice to make the shift for the operational side of racing instead, founding his first Formula 1 race team, Frank Williams Racing Cars.
Piers Courage in Williams Brabham BT26A, Nurburgring 1969
Early race efforts were especially difficult. In 1970, Williams partnered with Argentine builder de Tomaso for a Dallara designed F1 chassis. Unfortunately, the chassis wasn't competitive and eventually caused an accident that killed Williams driver and a close friend, Piers Courage. Bouncing back from the tragedy, 1972 saw the very first F1 car with a Williams design. Unfortunately, driver Henri Pescarolo wrote it off after an accident in its first race.
Against the ropes, Frank Williams' bank account was so depleted that he could no longer pay the bills and eventually conducted team business from a public pay phone after his landline got disconnected. Marlboro and Iso Rivolta initially pledged sponsorship support but eventually, the deal fell through and Frank lost his team. Rather than to throw in the towel and return to the business of traveling grocery sales, Frank and his engineer, Patrick Head, invested in an empty carpet warehouse in Oxfordshire to begin anew. WilliamsF1 was born.
Williams' first GP victory arrived under the talented Clay Regazzoni behind the Cosworth Williams FW07 at the 1979 British GP in Silverstone. Yet despite Regazzoni's performance, Frank Willaims decided to relieve him and invest some more in Australian driver Alan Jones instead.
According to journalists familiar with Williams, Frank's lack of emotional commitment to his racing drivers is contributed to the death of Piers Courage and a personal understanding of the dangers and risks involved with the sport. Other critics accused Frank of being a bit too obsessive with racing and performance. In fact, Frank Williams has even said, "We don't carry passengers in this business." Regazzoni wasn't short on talent, but Frank believed Jones had a little extra. It's just business. As it turns out, Alan Jones would provide WilliamsF1 it's first Driver's and Constructor's championship titles in 1980. Frank Williams' foresight was spot on.
Alan Jones in Williams FW07B
A dynasty of legendary drivers and marvelous racing cars from 1981 to 1997 allowed WilliamsF1 to earn another six Driver's and eight Constructor's titles. Unfortunately, Frank Williams' life never did run smooth. In 1986, Frank Williams departed from a testing session at the Paul Ricard race track to catch a flight at the airport in Nice. Driving a rental Ford Sierra with Peter Windsor at a high rate of speed without wearing a seatbelt, the Sierra lost control and flipped over, resulting in a tremendous accident that left Williams with a spinal fracture that caused him to become quadriplegic.
Just as Frank avoided feeling sentimental about his drivers, he refused to invest emotional capital on his handicap either. Business as usual, the Honda powered WilliamsF1 team would continue on to win the 1986 and 1987 Constructor's championship despite Frank's limited involvement during that period.
After Piers Courage, Frank Williams had a closer relationship with Ayrton Senna than his previous drivers. In fact, Williams was the first Formula 1 owner to spot Senna's potential in the early Eighties, when he was still competing in Formula 3. However, circumstances prevented Senna to drive for Williams until 1994.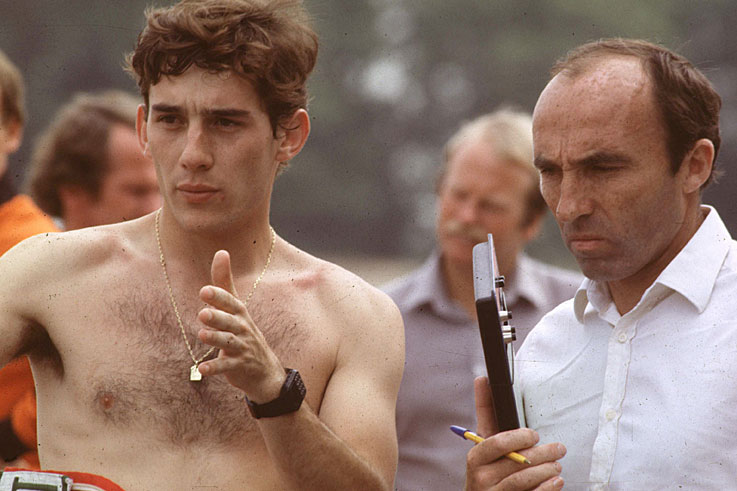 Ayrton Senna, Frank Williams, 1983
Unfortunately, it would be a short-lived relationship when Senna lost his life behind the wheel of the difficult FW16, smashing into the first corner barrier of lap six at Imola. Not only was Senna's death a blow to team morale, but Italian law pressed criminal charges for manslaughter, attacking Frank Williams as a person. When both race team and driver push technical and physical abilities to the very limit, tragic accidents happen. While the charges didn't hold, there's no doubt that the legal proceeding inflicted a great amount of damage to Williams' reputation. WilliamsF1 faced adversity as it always had, answering doubters of Williams' strength by achieving Constructor's championships in 1994, 1996, and 1997 under Renault power.
Unfortunately, WilliamsF1's performance dropped off since its glory days and it almost seems like the team has lost that X factor that have kept them consistently on the podium for so many years. The keywords are "almost seemed." Apparently, all Williams needed was a Renault. Current Red Bull, and former Williams, driver Mark Webber took some time to speak with Frank Williams when they celebrated his 70th: "Mate, 70 years old, plenty of years to go yet."
Frank smiled, "Yes, absolutely."
A long illustrious career, Frank Williams suffered more misfortunes and controversies than most. Defying the odds, the Queen recognized Frank Williams' resilience and awarded him the title of CBE, Commander of the Most Excellent Order of the British Empire, in 1987. Again, Williams would be knighted in 1999. What's more, Williams' racing achievements with Renault engines also earned him the honor as one of the few non-Frenchmen to receive the title of Chevalier of France's Legion d'honneur. Without a doubt, Frank Williams is a true hero and inspiration in every sense of the word.