A couple of weeks ago, we wondered whether BMW's ever expanding line-up, from their efforts to fill niches created by their rivals to creating even more niches like the 5-series GT to answer questions that no one bothered to ask, were in fact sullying their core DNA.
To this, IEDEI reflected disappointment, "...a confused and uninspired marque that is trying way too many things at the same time----with different ideas and scattered attention span... I really miss the BMW that I grew up loving in the 80s and early 90s, I hope it comes back someday..."
Well this weekend, I've got another bone to pick. All this time, and I blame my ignorance, I believed that the Cygnet was only available to existing Aston owners who wishes to own another vehicle that would better suit day to day city driving. It isn't. I also believed that Aston Martin would never sell out their image as supreme builders of GT cars and that their position behind the Cygnet was simply a project used to curve their thirsty lineup just enough as to not offend Europe's CO2 regulations or our CAFE standards (2012 NHTSA: 31.7 mpg).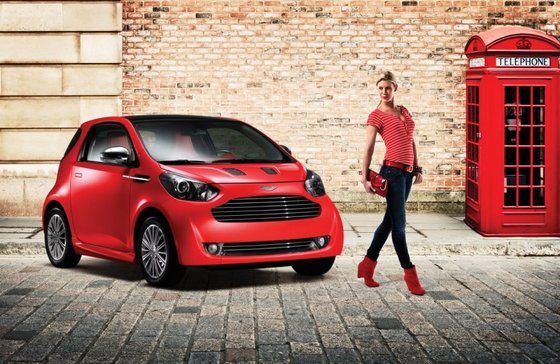 But as it turns out, the CO2 mandate only applies to automakers that sell more than 10,000 cars a year. Since Aston sells only about half that, it certainly isn't a cause for concern. And what about our CAFE? For those unfamiliar or who just do not care since it's been too nice out this summer to be bothered with some math, I've made the sacrifice (really) to do it for you... albeit a bit roughly.
The complete fleet fuel economy of Aston Martin before the introduction of the Cygnet (V8 Vantage, Vantage S, V12 Vantage, DB9, Virage, DBS, Rapide, and One-77) is roughly 14.23 mpg. And the complete fleet fuel economy with the addition of the Cygnet? Unfortunately, that only brought the number to a hardly significant 15.54 mpg... another 16.16 mpg short of CAFE's requirement. Keep in mind, the upcoming Zagato will cancel any role the Cygnet played for fuel efficiency anyway.
So then, what the fuck is the Toyota IQ based Cygnet for? There have been suggestions that the Cygnet will be a volume selling component in Aston's line-up, generating enough profits for Aston to continue building the grand coupes that we know and love. After all, Aston Martin wouldn't be the first company to do it. Why else do you think there are Cocksters, Cayennes and Panameras added on top of the 20 odd flavors of 911? Yet Porsche didn't rebadge a Toyota and garnish the little lump of beige with bodykits and leather. Those of you who suggest that the Cayenne is only a rebadged Touareg, keep in mind that the chassis was jointly developed by VW, Audi and Porsche.
So does this mean that any new model that an established automaker dares build that differs from whatever enthusiasts believe the company stands for will effectively tarnish the company? Does that mean that brands shouldn't bother venturing from their comfort zone?
I'm not so sure. Just because the Cygnet is pathetic, it doesn't make the Aston Martin DB9 any less desirable. Just because the X6 M is ridiculous, it doesn't make the BMW M3 any less of a benchmark. And just because the Porsche Panamera is heavy and eye stabbingly hideous, it doesn't make the 911 GT3RS any less hardcore either.
But what about a new, segment-breaking car that will not damage the identity of the brand at all? There are exceptions, and I can't think of a better example than Mini's new Countryman.
The original Mini, first introduced in 1959, received a facelift that was nothing more than a new grill in 1967 before it motored along virtually unchanged until production finally ended in the year 2000. On top of that, with four consecutive wins at the Monte Carlo Rally from 1964-1967, the Mini really became a legend. Its history and following is as long and illustrious as any. Its shape, style, and performance just as iconic.
Fast forward to its latest chapter under the ownership of BMW, the buzz that's been going around is the new Countryman. It introduces a whole new Mini with 4 doors plus all wheel drive. Having seen it in the flesh, it sort of does look larger than a Mini should.
But despite the factors that seem to distance the Countryman from Mini's DNA, it really is a practical car. As the loyal new Mini owners get older and are preparing to begin families of their own, providing a new Mini to fit their new lives couldn't be more logical. What's more, even with the Countryman's new physical dimensions, it actually possesses a similar footprint to the Golf, VW's smallest
North American
USA offering. Not to mention, to put a sock in the pie holes that believe that this bigger and more family oriented Mini is no longer "fun," Mini is pushing exactly this particular platform for it return to the WRC stage.
Aston Martin and BMW could really learn a thing for two from Mini. It especially boggles the mind when BMW and Mini are under the same corporate umbrella, yet their current product trends couldn't be more different. Simply, if a company wishes to successfully enterprise into a new market niche, make sure all the bases are covered.