I wrote a post about Saab
. As I've mentioned, I was never familiar with the marque. Yet, similar to the way a person can never look away from a train wreck, I couldn't leave Saab and its imminent bankruptcy well alone.
What will happen to an all-but-terminal company when its CEO, Victor Muller, sells his creation, Spyker Cars, just to see the new 9-5 realized? What will happen to a company that has passionate and loyal fans but a tiny, and shrinking, customer base?
I've presented a couple questions in my past article and after so long, not only have they all gone unanswered, but every so often, the questions would come to haunt me. I couldn't leave them alone.
What does the brand stand for? What sets Saab apart? Who are Saab buyers today? What's the one thing the company can do to turn it all around?
There was only one way to find out. I had to drive it.
So, I went to seek North Shore Saab of Roslyn, NY for help. The response to my request was in true Saab fashion. "Thank you for your interest in a very interesting car company." How is that for setting the tone?
The closest Saab dealer, North Shore Saab was still 45 minutes away (Google Maps lied!). Although I did not plan for this in advance, I ended up driving my dad's Lexus GS300 AWD to get there. In the back of my mind, I realized I was given the golden opportunity to drive two comparable cars back to back.
Let's jump right into it. The gentlemen of North Shore Saab readied a 2011 Glacier Silver Metallic Saab 9-5 Turbo4 for my morning test drive. Saab did a wonderful job with the 9-5's design. Longer, wider, lower than most of its competitors, the Saab looks very sporting and was able to execute a visually smaller impression, hiding its large executive sedan proportions exceptionally well. Key elements to the 9-5's design are its black A and B pillars, creating a wraparound look resembling that of a Jet Canopy. After all, Saabs are "born from jets."
Interior-wise, the "born from jets" theme continues straight away. Filling the center of the speedometer is a digital speed display that borrows influences from gyroscopic horizon attitude indicators found in planes. The dashboard is especially unique, separating itself from any American, Japanese or German counterpart. While the Lexus GS utilized liberal amounts of chrome and wood trim, the 9-5 presented a more restrained dashboard with a wood border accent wrapping itself around the gauge cluster, dropping along the center console. The plastics are firm and tactile. The buttons, switches, scrolls, and knobs have great feel and weight. The placement of the buttons, the armrest/cubby behind the shifter, and ergonomics in general are quite spot-on. The doors, both front and rear, close with a vault feel similar to a Mercedes-Benz. As a matter of fact, the doors have a lot more heft to it than the Lexus GS.
Let's talk performance. Likely the most popular trim amongst Saab buyers, the front wheel drive Saab is fitted with an inline-4 twin-scroll turbo producing 220-hp at 5300 rpm, and a strong 258 lb-ft of torque at just 2500 rpm. Its 3858 lbs. curb weight is a bit on the hefty side (3,748 lbs. / Lexus GS300 AWD), resulting to a slightly mediocre 0-60 performance of 8.2 seconds. I suspect its weight resulted in a compromise in fuel economy too. The 9-5 achieves 18 city and 28 highway. They're good numbers, but they could be better.
But for Saab, the performance specs and numbers hardly tell half the story. While morning commuter traffic disrupted the test drive at first, I immediately felt at home with the steering (telescopic!) and pedal positions. Everything just worked from the get go. No jackrabbit starts, no shift shock, no grabby brakes. I didn't need a break-in period at all. Finally, with a turn off Northern Boulevard and a nod from Jess, North Shore Saab sales associate and a real nice guy, the road opened and I took a good stab on the throttle. The turbo spooled quickly with strong and linear delivery. The Saab packs more than enough 40-to-70 mph punch necessary for safe highway merging.
Ride and handling wise, the Saab's well tuned damping, chassis stiffness, and its wheelbase of 111.7 inches glided over potholes with the composure one would expect from a luxury sedan. Interior trim pieces, everything from sun visors to the hinges at the glove box, were rattle free.
On the handling front, the 9-5's heavy mass and front wheel drive platform does let itself down a little bit. Then again, Saab never envisioned the 9-5 to take on track or autocross duty anyway. While it isn't as nimble as I'd like, weight and feel from the 9-5's rack-and-pinion steering had far more feedback than expected. Moreover, the previously mentioned solidity of the 9-5 translated to superb weight transfer during a snappy emergency lane change simulation. When the same maneuver was tested on the Lexus, I was surprised that the lighter GS actually had more body roll and less road feel. In an heavily data and numbers driven industry, handling is the equalizer that makes a spec sheet irrelevant. Drive a Saab 9-5 and see for yourself. The Swedes just do things a little differently.
After the test drive, I knew Saab definitely have a product. It's a solid vehicle that possesses an attractive exterior design, uses high quality interior finishes, sensible ergonomics, and competent power and handling. It's a good car.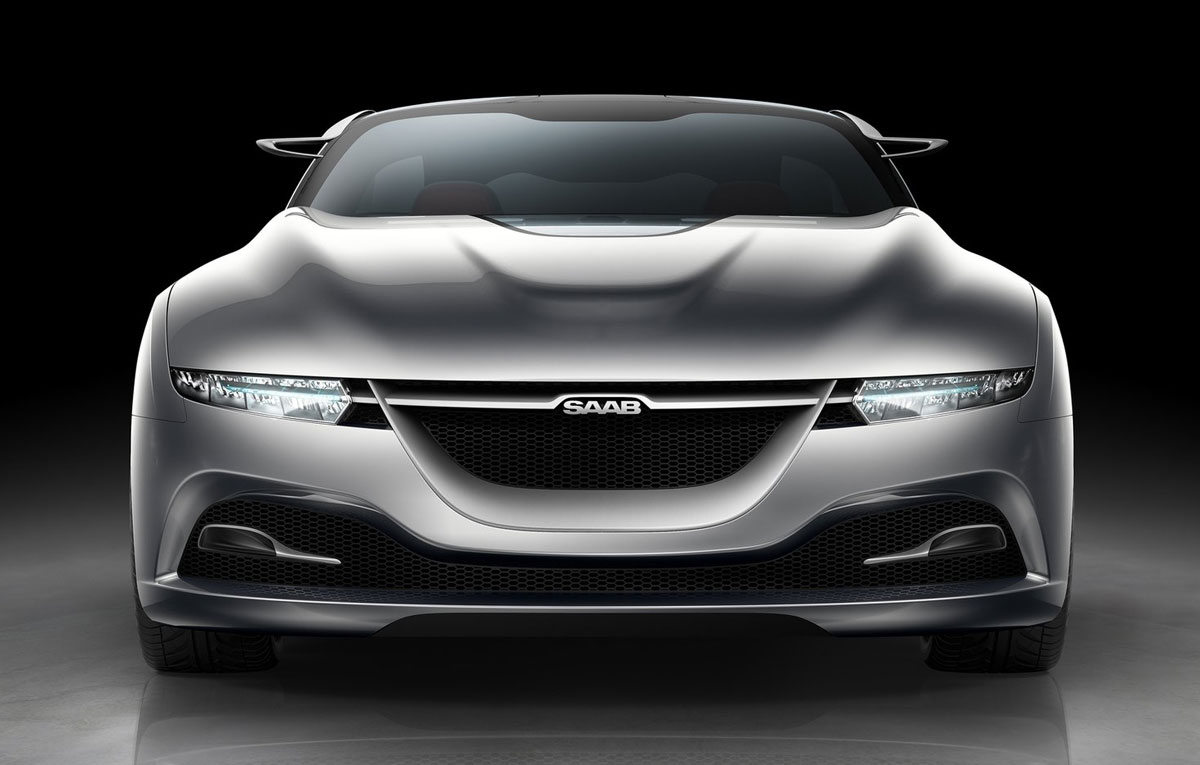 Stuart, manager of North Shore Saab, also revealed that a whole line of next generation Saab cars and crossovers using design cues from Jason Castriota's Saab PheoniX are in the works as well. This new line-up includes a new entry level 91 (Saab may drop the hyphen), a new 93 to pit against the 3-series, a stretched 9-5 (97?) for the Chinese market, and a crossover series 92x, 94x, and 96x (the utes get even numbers).
Now then, how can we help the 9-5, and Saab Automobiles itself, gain the attention it rightfully deserves?
I sat down with Stuart and Jess and the gentlemen graciously answered and addressed all the questions I asked. Here's a synopsis:
Q: What does the brand stand for? What sets Saab apart?
A: Safety and Handling
My Take:
Toyota built their reputation on reliability, Benz built theirs on luxury, and Porsche's appeal comes from its racing pedigree. While the Swedes were known to be innovators of safety, Saab faces two disadvantages. Firstly, Saab's Scandinavian compatriot, Volvo, already made its name from exactly the same thing. Secondly, modern technology as well as more stringent standards have resulted to a whole industry that places safety as a priority. Just last week, I read an article discussing subcompact Ford Fiesta's five star crash safety rating.

As I've mentioned before, handling is immeasurable and comes down to individual preference. This trait is especially harder to sell when your vehicle weighs close to 4,000 lbs.
Q: Who are the typical Saab buyers today?
A: Previous owners of Saab.
My Take:
OUCH! While not unlike the answer I predicted, the bluntness and the reality of it stung when addressed aloud. The gentlemen were especially upset about the state of Saab and the way GM totally dropped the ball and neglected the company after they've invested so much to buy it. The previous generation 9-5, under GM ownership, suffered through a decade without a redesign.
A marketing campaign could be the answer, which leads us to the next question...
Q: What's the one thing the company can do to turn it all around?
A: Capital.
My Take:
A Catch 22 here. Saab needs money to survive. Saab needs to survive if it wants to make money.
As I've mentioned in my previous Saab article, perhaps the only way for Saab to rise from the ashes would be to use the new Chinese capital for aggressive and ambitious product development, a la Lotus's ambitious 5 model project or Jaguar/Land Rover's ridiculous 40 model development plan. Hire a formidable design director, develop a new and radical chassis and powertrain, and find the best marketing agency conceivable... basically to start from ground zero. As it is with "flight or flee" animal instinct, it is also important for a company to go all-in if it wants to survive. The Saab 9-5 is undoubtedly a good car. But these days, delivering a "good" car is no longer good enough.
This past summer, I attended a GM event that invited folks to test drive their cars alongside their competition. An engaging annual PR event, GM hopes the opinions formed after the test drives will result to more traffic to GM showrooms in the future. I suggested my experience as an idea that Saab could adopt but unfortunately for Saab, its critical financial state simply cannot make it possible.
Stuart admitted that Saab CEO Victor Muller is a tough sonofabitch and really admired his resolve. He believes that the team that took over Saab from GM are seriously working with Saab's bests interests in mind. However, as Victory Muller's previous enterprise, Spyker Cars, was a boutique outfit, Muller's experience in managing a mass production automaker comes to question.

While news articles have been more interested in covering Saab's financial challenges than their upcoming product, while the vast majority only see Saab as an automotive "Terri Schaivo," Jess and Stuart have little to go on except for faith in karma. Jess and Stuart await that Hail Mary pass.
Before leaving, I told Stuart that the Saab 9-5 grew on me. He simply replies, "It gets better."
Finally, a thank you to North Shore Saab
.
Just trying to put together all that I've gathered from the test drive made me realize just how much time they've accommodated me.