Welcome to Freak of the Week #9. A while back, I posted a FoTW on the "Angrier" Dodge Daytona pro touring. The idea behind the car was to modernize a muscle car so that it can accelerate, brake, and turn as well as a present day sports car.
Well, it seems like the idea has already been very popular and have ventured to less likely platforms. I present you Anthony's pro-touring Datsun 510.
Found on 6speedonline,
the heart of this Datsun isn't a Datsun at all! Anthony found power by way of an engine swap donated from a straight-six 1991 Toyota Supra. The result? After some massaging via a Garrett GT35R turbo, intercooler, custom exhausts and intake, and a number of other exhaustive and tedious hours of attention to detail, The Supra powered 510 dyno'd 398 WHP.
Anthony's talent goes far beyond completing an engine swap, he really dialed in a very unique appearance. With the hula girl caliper detail, military green matte finish, custom grill and headlamps, 240Z wheel flares and custom dash, Anthony took the Datsun from something that was simply amusing and turned it into a work of art.
Don't be mistaken though. This is not a trailer queen.
Tuning to match the power came by way of 280zx struts with Tokico Illumina cartridges, Techno Toy adjustable T/C rods, Ground Control camber plates and coilovers, adjustable rear shocks, custom panhard bar, a limited slip diff, Corvette C5 rotors with Dodge Viper calipers, 18x8.5 and 18x10 Racing Hart wheels f/r repectively... shall I go on?
This is what Anthony had to say,
I like this car because it's unique, people get a kick out of it, and I've built and tuned it by myself. It's fun at track days yet I can drive it on road trips such as Portland to San Jose this summer was over 1200 miles round trip. I vow no trailers are in its future.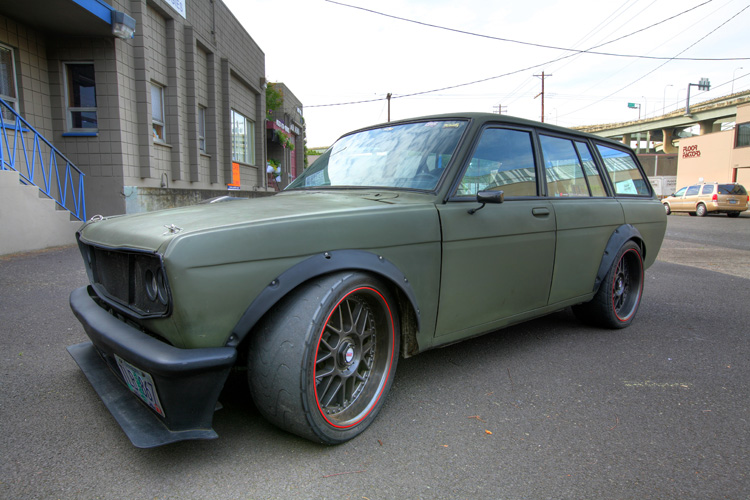 The P-Zeros are gone!!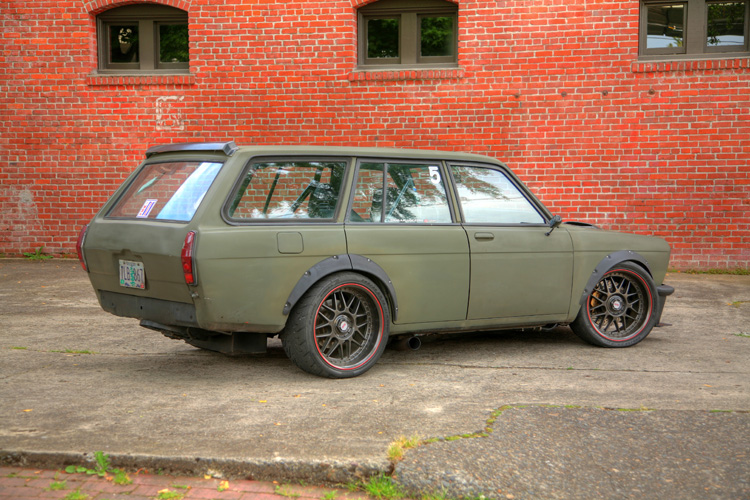 Props to whoever can identify where that center console piece is from